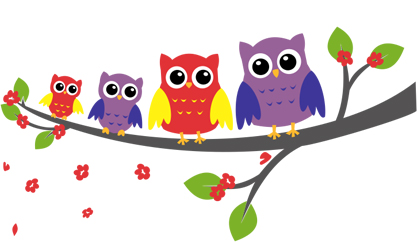 Why Choose Us?
As parents, we know that you want the best for your child. What follows are the four foundations of our ethos:
Above all else, we believe that you want your child to be HAPPY. To this end, we provide dedicated, nurturing staff who truly love working with and caring for young learners; an exciting educational programme and extensive indoor and outdoor facilities.
Equally important, you can rest assured that your child will be exceptionally WELL PREPARED in all the necessary skills that are required for their more formal schooling – confident and competent to cope with the many educational and social demands that are now required of young learners.
We strive to expose young minds to the richness of the world around them and make sure that they are
STIMULATED
in all spheres of their development.
We recognise the importance in society of giving our children a SENSE OF IDENTITY. We nurture individual family dynamics and provide on-going opportunities for lasting friendships, established within the school environment.
We are committed to nurturing the whole child: physically, intellectually, socially and emotionally.
We promote extensive opportunities for each one to develop as individuals and to be part of a stimulating and educational environment, where all their skills are enhanced.
Our ethos is based on "learning through play" in open-plan classrooms. Here, free choice and structured teacher-directed activities, are carefully balanced and designed to lead your child towards his or her full potential.
We believe in a clear moral code of politeness, fairness, sharing and taking turns.
Our 6 Golden Rules
Good Behaviour
Good Manners
Good Listening Skills
Good Communicators
Good Helpers
Good Friends
Indoor Facilities
The Art Room
This area is extensive and provides opportunities to work daily with different media, which include painting, drawing, clay, play dough, three-dimensional construction and a technique and collage activity.
We encourage the development of each individual's creativity. These activities are differentiated, so that children can enhance their artwork according to their level of development.
The Resource Area
The Theme Table provides various forms of information regarding the current focus, which changes every two weeks.
The Fantasy Area is a small version of a kitchen, bedroom or a specific role play scenario which promotes the current theme.
The Block Area is well established with a large variety of wooden blocks and transport vehicles, which is particularly popular during the winter months.
The Drawing Table is available in each individual classroom and a variety of writing equipment and stationery is supplied. Here the children are encouraged to practice their fine motor and writing skills.
Books, Educational Games, Construction Toys and Puzzles are available on open shelves and used throughout the morning. These are also changed every two weeks.
Outside
We have two large gardens on either side of the school building with wooden jungle gyms, climbing frames, swings and sand pits.
The movement exploration equipment and very busy cycle tracks enhance the children's physical and social development. These areas are supervised at all times.
Teacher Directed Activities
Special Time provides an opportunity for the teacher and the children to exchange news and ideas, while sitting on their group mat. This also includes extensive discussion regarding the current theme, the weather, Show and Tell and Library.
Snack Time – we ask parents to provide small healthy snack in a marked lunchbox for their child. The teacher uses this ideal opportunity to promote good table manners.
During Music or Movement Ring the teacher encourages her group to move freely and rhythmically to various types of music. Singing during this time is thoroughly enjoyed and new songs are also constantly being introduced throughout the morning programme.
Story Time is used to relax and "wind down". We expose the children to good quality literature, which promotes all areas of their language development.
A comprehensive semester Progress Report and a thorough feedback interview with the group teacher takes place every June and November.
Staff
Our employees are carefully chosen by Jeni, in conjunction with members on the Governing Body. All staff excel in their profession.
Their aim is to encourage a child's spontaneous desire to learn and stimulate their natural curiosity, whilst feeling secure and safe within the school environment. They are constantly observed, given direction and encouraged in all that they do.
Principal : Jeni Reid
studied at Barkly House Training College for four years and was invited to become a teacher after receiving her qualifications.
She taught for 7 years, before taking on the role of Principal in 2001.
School Secretary: Ingrid Glasser
We Have....
5 x Foundation Phase Teachers
5 x Teacher's Assistants
1 x Additional Support Assistant
1 x Groundsman
Extra Murals
Non-compulsory extra mural activities are offered directly after the daily programme at an additional cost.
This is to assist parents in day-to-day time management and for their convenience.
Aftercare
Starting Time From 12:15 (depending which group your child is in).
Closing Time : 2:30pm Monday to Thursday & 1:45pm on Friday
Cost: R12.50 per set 15 minutes, including prior to and after any optional extra mural activities.
A snack and juice needs to be provided in a separate lunch box.
An account will be sent to you at the end of each month. .
Please note that Aftercare ends promptly. Parents may not fetch their child after the abovementioned times.
Activities during this time include: snack time, playing in the garden, colouring-in and drawing, playing with educational games and reading stories.
Extra Murals
| | |
| --- | --- |
| Day | Activity |
| Tuesday | Unique Dance |
| Wednesday | Playball |
| Thursday | Playball |
Enrichment
We feel that education is lacking if it does not relate to the real world and therefore, include extensive exposure to the community as part of our programme.
We take pride in supporting various charities involving children, by fundraising and collecting much needed items for those less fortunate.
Social Events
We encourage family participation by offering many opportunities to become involved in the school.
Some of our social events include a Babysitting Evening, Social Braai, a Market Day, a Treasure Hunt, Father's and Grandparent's Day, Cake Sale and a very endearing End of Year Concert at the end of each year.